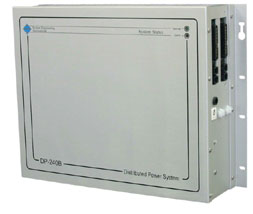 The SEI DP240 Bulk Power Supply
The DP240 is a bulk powering system that provides the necessary 48 volt DC current to power 48 NT1's and 96 multipoint ISDN phones. Integrated battery backup provides the user up to 8 hours of uninterruptible power to insure continuous phone service in the event of local power outages. Output distribution is provided by an application specific distribution module on the side of the unit (50-pin amphenol and 6-pin modular connectors are standard) which incorporates overcurrent protection via thermal fusing. During normal operation the telecommunication grade rectifier/charger provides power to the load while maintaining the batteries in a fully charged state. During extended periods of utility outage the batteries are protected from over-discharge by the built-in low voltage detector and disconnect circuit. Remote monitoring is provided by a contact closure that can be interfaced to a remote alarm unit.

All DP series units are mountable either on a wall or on 19" racks. Mounting brackets for 23" or 25" racks may be ordered as options (specify 23RM or 25RM after the model number).
Ordering Information
Model #
Description
Dimensions
(W" x D" x H")
DP240-48-0
DP240 with no battery holdover
19 x 5 x 7
DP240B-48-8
DP240 with internal 8 AmpHr battery (2 hour holdover)
19 x 5 x 14
DP240B-48-16
DP240 with internal 8 AmpHr battery
external 8 AmpHr battery pack (4 hour total holdover)
19 x 5 x 14
19 x 5 x 7
DP240B-48-32
DP240 with internal 8 AmpHr battery
external 8 AmpHr battery pack
external 8 AmpHr battery pack (8 hour total holdover)
19 x 5 x 14
19 x 5 x 7
19 x 5 x 7

Options

RA
Remote alarm unit
2.5 x 4 x 1
Technical Specifications
Electrical
Environmental
Universal Input (90-265 VAC)
Frequency 47-440 Hz
Output Voltage 42-56 VDC
Operating 0 deg C to +50 deg C
Storage -55 deg C to +85 deg C
Humidity 95% non-condensing

Optimum battery life will be achieved if the unit is operated at a temperature of 25 deg C.
Standards
UL 1012