Some files linked on this website are in Adobe Reader Format (.pdf). If you do not have the reader installed, please follow the link below and download it for free.

Click to:




ORDERS: 800-622-0503
TEL: 603-622-0500
FAX: 603-644-7073
EMAIL: info@tse-isdn.com



| | |
| --- | --- |
| | PC Screen-Based Call Processing |
>> MANUFACTURER >> TONE COMMANDER >> 6001TA - PC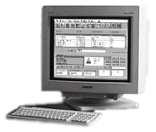 Tone Commander 6210 and 6220 ISDN Telephones with the Model 6001TA Terminal Adapter add-on base can be controlled by a TAPI-compliant Windows computer application program. The Terminal Adapter provides a serial port for connection to a PC.

Using any standard Windows TAPI-compliant application, you can access ISDN Centrex features for call management and caller identification. TAPI features update automatically when the phone configuration changes.

Many applications are supported, including AG Communications Systems ClientCare, Microsoft Outlook, Outlook Express, and Windows Phone Dialer, and Papillon Technologies TAPI Link for Goldmine.
| | |
| --- | --- |
| | Lucent Teleservices ISDN Software |
>> MANUFACTURER >> LUCENT >> CALLMANAGER
| | |
| --- | --- |
| | The Teleservices CallManager application is screen-based software that assists with call management functions. It links your desktop applications and the telephone using standard Telephone Application Programming Interfaces (TAPIs) and helps improve your productivity by letting you: |